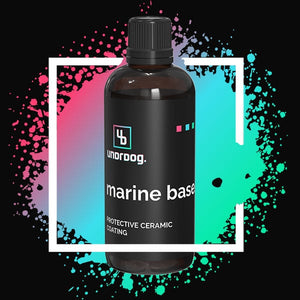 A highly durable, incredibly glossy protective coating designed to reduce maintenance for all painted, gelcoat, metal and plastic surfaces on your boat. Our marine base. is the foundation to our two-layer system designed to enrich or restore the appearance and protect your boat for 18 - 24 months. Preventative, proactive and rich in shine, this coating gives new life to your boat. 

It protects your vessel against environmental damages such as bugs, bird droppings, heavy detergents, sun damage, oxidation, minor scuff transfer, dirt, grime, marine growth and more. With hydrophobic self-cleaning and protective properties, cleaning is simple. Your boat, new or old, can be transformed, and we want to help. marine base. is the very best primary coat for our marine top. (https://getundrdog.com/product/marine-top/) where you can achieve a final protective layer for extra hydrophobic properties and gloss.

Coverage: One bottle will cover 24 ft. boats an average of 1-2 times. This means up to two layers for the average 24 - 30 ft boat. For best results, aim to apply two layers of marine base.