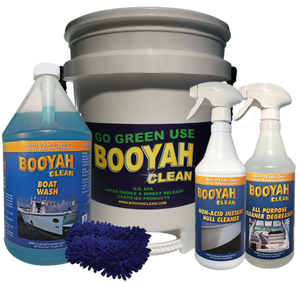 The BOOYAH® CLEAN BUCKET KIT includes a feature laden bucket and 3 of our best products for getting your boat clean with a great way to store them until needed again!

The bucket itself has TWO handles! The top handle is a rust-free ROPE handle, that will not clang or scratch up your boat should it get a little rocky on the water. There is also a convenient built-in handle on the base of the bucket to make dumping it much easier! The bucket comes with a resealable easy on and off snap on lid that makes it a great way to secure your products when not in use, one Gallon of BOOYAH® CLEAN BOAT WASH, one Quart of NON-ACID INSTANT HULL CLEANER, one Quart of ALL PURPOSE CLEANER/DEGREASER, two Quart TRIGGER SPRAYERS, and two FREE WASHING MITTS!

100% Guaranteed to Work or Your Money Back!
GO GREEN WHILE KEEPING YOUR BOAT CLEAN USING BOOYAH® CLEAN!